When most Americans think of Atlanta, they think of the top U.S. cities. However, as of July 2012, it was ranked only 40th in population, with less than half a million people. Although, a drive through Atlanta during traffic hour, will make it feel like it is definitely in the top 10!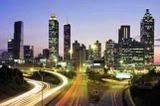 Regardless of size, Atlanta is definitely on the Top 10 list of Cities to Travel in the U.S.
Here are some free things to see as you travel to Atlanta.
Central Park in Atlantic Station has a free concert series on Friday nights, once a month.
Centennial Olympic Park
has regularly scheduled free concerts, free family activities and features
the world's largest
interactive fountain. The park was originally built for the 1996 Olympic games and has since been the site for anything from a 8 ton ice sculpture to a picnic for Barnum and Bailey elephants.
Other parks in Atlanta include Piedmont Park, Grant Park and Chastain Park. Each with their own unique free entertainment throughout the year.
Two miles east of downtown Atlanta, take a walking tour of the
Inman Park
neighborhood. This neighborhood was home to some of Atlanta's most prominent citizens in the 19th century. If you happen to be in Atlanta in the Spring, some will open their doors for tours.
Some of Atlanta's museums and sites offer free admission:
Just outside the city, is
Stone Mountain
, one of the area's best attractions. Admission is free with a daily parking pass.
This photo of
Stone Mountain
is courtesy of TripAdvisor
Kennesaw Mountain National Battlefield Park
is a definite must see for any history buff. There are three Civil War battlefield areas at the park. Admission is free.
You might like to visit
Underground Atlanta
while you are there. View art displays, historic sites and take in a little shopping too. If you are in Atlanta over New Year's Eve, you can watch the 800 lb. Peach Drop!
Don't forget to visit the
Georgia State Capitol and Museum.
Admission is free and exhibits date back to the early 1800's!
Interesting fact about Atlanta's Asa Candler, who is credited with marketing and expanding the Coca-Cola soda pop, Candler had so much faith in the product, he spent his life savings on a brass pot, a paddle for stirring and the recipe for Coca-Cola.
Here's a map of things to see and do in Atlanta, on any budget!
View
Atlanta, Georgia Free to See
in a larger map
What's Nearby:
Cartersville, Georgia